HEALING THE SPIRIT IN ANCIENT EGYPT
HEAL YOUR SPIRIT WITH ALCHEMY, AROMATHERAPY, TRANCE, PRIVATE CEREMONIES & INITIATIONS IN THE TEMPLES & GREAT PYRAMID OF EGYPT with ELISABETH JENSEN, Principal of Auset Temple Healing & High Priestess of Isis.
Commences in Cairo April 26 & Completes 14th May in Cairo (18 nights/19 days)
ESSENTIAL PREREQUISITE COURSE is Isis Lotus Healing Level 1
Adelaide participants are welcome to fly to & from Cairo with Elisabeth Jensen
You can read more about our Cruise Ship the Star Goddess Here
We will once more be staying in Pyramid View Rooms at the amazing Mena House Hotel just opposite
The Great Pyramid www.menahousehotel.com
Mena House Facebook Page

Before booking for Elisabeth's Teachings in Egypt please read the attached Registration Form.
You also need to complete it & email it to our office soon as possible please.

ISIS SACRED JOURNEY TO EGYPT 2015
* HEALING THE SPIRIT IN ANCIENT EGYPT *
HEAL YOUR SPIRIT WITH ALCHEMY, AROMATHERAPY,
TRANCE & INITIATIONS IN TEMPLES & GREAT PYRAMID OF EGYPT
Commences Cairo April 26 & Completes May 14, 2015
INCLUDES 2 PRIVATE VISITS FOR INITIATIONS in the Great Pyramid
plus a LUXURY 7 Night Nile Cruise on the Star Goddess in a Suite.
All accommodation in Cairo is at the famous 5 star Mena House Oberoi Hotel
just directly opposite the Giza Pyramids & all rooms
have private balconies with direct view of the Pyramids.
ELISABETH JENSEN is a voice channel for ISIS & AMUN RA plus many Egyptian Divinities
also a healing channel for ISIS Ancient Egyptian Secret Healing Codes, a Hypnotist & Hypnotherapist,
Aromatherapist plus founder of Isis Lotus Healing,
Isis Mystery School & the Angel Miracles Courses & Triple Award Winning Psychic.
Formerly a Registered Nurse, Midwife & Community Health Nurse Elisabeth has studied, travelled & taught
in Australia, USA, UK plus Asia & Egypt for many year.s
This will be Sacred Journey No 9 to Egypt for her and she will be assisted once again
by Sri Mulyadi plus Paul Filmer from The Blue Lotus in Singapore.
THIS MYSTICAL SACRED JOURNEY IS AN ORAL TRAINING COURSE PLUS PERSONAL PSYCHIC HEALING EXPERIENCE IN THE METHODS USED BY THE HIGH PRIESTS & PRIESTESSES IN ANCIENT EGYPT TO HEAL THE BODY & SPIRIT USING ESSENTIAL OILS & TRANCE HEALING (HYPNOSIS) IN THE FAMOUS SLEEEP TEMPLES OF EGYPT, ESPECIALLY AT ISIS TEMPLE ON THE RIVER NILE.
It will also culminate in a PRIVATE 2 HOUR CEREMONY in the KINGS CHAMBER of THE GREAT PYRAMID.
As all Initiates in turn lay in the Sarcophagus Elisabeth will INITIATE YOU as a Priest/ess of Isis, Sekhmet & Nefertum,
plus give other Initiations if guided by Isis. Elisabeth is a High Priestess of Isis, Sekhmet Amun Ra,
Nefertum & Thoth – During her first visit in 2003 she received the powerful Isis Divine Blue Healing energies
that are the basis of her highly effective Isis Lotus Healing & Mystery School Courses.
Elisabeth is highly trained in the use of Young Living Essential Oils having completed Egyptian
Emotional Clearing Technique Levels 1 & 2 & the Raindrop Technique Course.
PRIVATE VISITS, MEDITATIONS & INITIATIONS AT DAWN BETWEEN THE PAWS OF THE SPHINX & at ISIS PHILAE TEMPLE PLUS a visit to the famous ORACLE TEMPLE OF AMUN RA in Siwa Oasis ( for Amun Ra Initiations & White Tablets Blessings) ARE ALSO HIGHLIGHTS- see Itinerary or website for full details. Our Egyptian Travel Agent is Medhat Ahmed who now lives in UK & is Chairman of ABBA Travel.
PREREQUISITE COURSE REQUIRED TO PARTICIPATE IN ISIS JOURNEY 2015:
The powerful Initiation process mean only Healers of Isis only will be ready for this level
of Spiritual Alchemy & Initiation.
All participants must have completed Isis Lotus Healing Level 1
with Elisabeth Jensen OR an Authorised Isis Lotus Teacher.
YOUR INVESTMENT TOTAL for a Share Room is US$5595 PLUS Aust$980.
A Single Room is US$7295 PLUS Aust$980 (Early Bird is $780 by Aug 1)
NB! The A$980 is payment to Elisabeth for her Teachings in Egypt.
ELISABETH'S TEACHING FEE of A$980 or a DEPOSIT of A$500 is required by Oct 1.
See details in the Registration form, complete your details there & give with your payment
to Elisabeth Jensen or by PayPal
ONCE you have paid & been accepted for Elisabeth's Spiritual Teachings in Egypt you can THEN BOOK YOUR EGYPT LAND PACKAGE by paying your deposit of US$800 for a Share Room or US$1000 for a Single Room TO ABBA TRAVEL IN UK by PayPal @ www.abbatravel.co.uk or Bank Transfer - BY October 15th.
FINAL FULL PAYMENT to Abba Travel is by Bank Transfer by FEB 9th 2015 for EGYPT LAND PACKAGE.
Discount of US$100 applies if paying Abba Travel fees in full by December 1.
YOUR PAYMENTS COVER all your Egypt accommodation, group airport transfers, flights within Egypt & Nile Cruise plus most meals & tips plus all of Elisabeth's Teachings & Initiations, with assistance by Sri Mulyadi.
NOT INCLUDED are your International Air Fares, Insurance or Egypt Visa – see Registration Form.
AN OPTIONAL MEDITATION & PREPARATION NIGHT WITH ELISABETH WILL BE held at The Eternal Spirit 100 Goodwood Rd Goodwood SA 5034 in February 2015 for Adelaide Participants. Investment $15.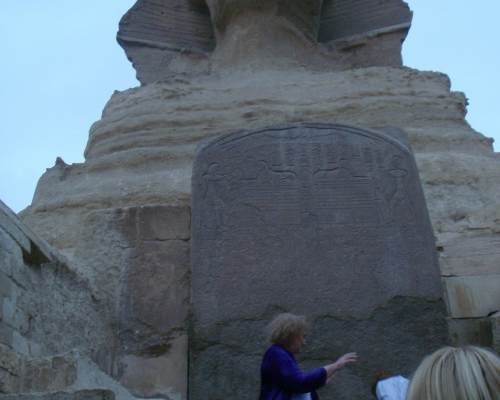 ITINERARY FOR ISIS SACRED JOURNEY TO EGYPT 2015

Sunday April 26 - Day 1 - ARRIVE CAIRO & MENA HOUSE - WELCOME HOME!
The main group arrives at 10.40am on Emirates Flight EK 927 from Dubai. Met at airport by Medhat & Abba Travel Representatives & transported by coach to the amazing Mena House Hotel www.menahousehotel.com just next door to the Great Pyramid at Giza Plateau & built over ancient Temples. All our beautiful rooms have Pyramid Views. Rest then meet at 7pm for our welcome dinner at Mena House. (MEALS INCLUDED: Dinner)
Monday April 27 - Day 2 - ORIENTATION & TRAINING DAY AT MENA HOUSE
We meet at 10am for a day of meditation, group connection plus information & spiritual preparation for a smooth journey.
Finish at 5.30pm & walk to dinner at nearby Restaurant
(Meals Included are Breakfast, Lunch at the Hotel & Dinner at a restaurant close to the Pyramids)
Tuesday April 28 - Day 3 - SPHINX DAWN MEDITATION, 1st PRIVATE PYRAMID VISIT
Early wake up call for our PRIVATE DAWN VISIT & Ceremony of Protection through the Sphinx at 6am – includes channelled messages from The Sphinx through Elisabeth. Then at 1pm we return to Giza Plateau for our first PRIVATE 2 HOUR VISIT to the Great Pyramid for Isis & Siriun Star Channellings & Initiations. (MEALS: Breakfast & Dinner at Hotel)
Wednesday April 29 - Day 4 - BUBUSTIS CAT TEMPLE & EGYPTIAN FARM VISIT
In the morning we visit the Temple of the Cat Goddess Bast to Meditate. We then travel to a genuine working farm to have lunch courtesy of Medhat Ahmed of Abba Travel. (B, L, D)
Thursday April 30 - Day 5 - SAKKARA TEMPLE & SHAMS EL BIRR CHIDRENS CENTRE
Morning visit to the oldest Step Pyramid & Sound Healing Complex at Sakkara. After lunch nearby & a visit to a carpet factory we travel to October 6th City to visit Dr Morcos Centre for Children with Disabilities that is supported by Isis Mystery School. (B, L, D)
Friday May 01 - Day 6 - FLY TO ASWAN TO OUR 5* STAR GODDESS CRUISE
We check in to our exclusive ALL SUITES STAR GODDESS CRUISE – all suites have a private balcony & we will have the ship mostly to ourselves! After lunch on board we visit Knum Temple by Felucca boat & visit Aswan Markets in the afternoon. ALL MEALS INCLUDED ON BOARD OUR 7 NIGHT LUXURY CRUISE plus Afternoon Tea www.sonesta.com/nilecruises/
Saturday May 02 - Day 7 - RELAX & SAIL ON NILE, VISIT KOM OMBO TEMPLE
Sunday May 03 - Day 8 - VALLEY OF KINGS, MEET ANUBIS & VISIT LUXOR TEMPLE
Monday May 04 - Day 9 - ABYDOS THEN PRIVATE VISIT TO DENDERA TEMPLE
We drive through the countryside to Abydos Temple, dedicated to Osiris & see The Flower of Life Symbols on the Sacred Pool Walls there. Then a PRIVATE SUNSET CEREMONY at Dendera with Hathor, Goddess of Love, Dance & Music, plus meditate in the Secret Crypt!
Tuesday May 05 - Day 10 - VISIT KARNAK TEMPLE, MEET SEKHMET FACE TO FACE
Early morning visit to this huge Temple to meet Amun Ra & Sekhmet there plus meditate.
Wednesday May 06 - Day 11 - PRIVATE VISIT & CEREMONY IN EDFU TEMPLE
Powerful Initiations from Thoth plus Horus to activate & HEAL your 3rd Eye DNA & Vision.
Thursday May 07 - Day 12 - PRIVATE DAWN VISIT & INITIATIONS IN ISIS TEMPLE
Dawn visit to this beautiful Island Temple for Healing the Spirit with Goddess Isis & the God of Aromatherapy, Nefertum, through a modern version of the Ancient Cleansing the Spirit & Flesh Ceremony with Essential Oils as depicted on the Inner Temple walls there.
Friday May 08 - Day 13 - ELEPHANTINE ISLAND ASWAN & SLEEP TEMPLE HYPNOSIS
Today we depart our cruise & transfer to the beautiful Island Moevenpick Aswan Resort Hotel for 2 nights. Sunset Visit at Satis Temple on island then after dinner at Hotel we have a Trance Healing Ceremony in the hotel garden (B, L, D)
Saturday May 09 - Day 14 - REST DAY AT OUR ASWAN ISLAND RESORT (B, D)
Sunday May 10 - Day 15 - FLY TO CAIRO, VISIT TO KHAN EL- KHALILI MARKETS
Return to Mena House Hotel after a visit to these famous old markets of Cairo (B, L, D)
Monday May 11 - Day 16 - VISIT CAIRO MUSEUM & OLD CAIRO CHURCHES (B, L, D)
View of Great Pyramid from our Mena House Hotel www.menahousehotel.com
Tuesday May 12 - Day 17 - PRIVATE VISIT TO GREAT PYRAMID FOR INITIATION
Morning meditation & preparation then at 2pm we visit The Great Pyramid for INITIATION BY POWERFUL TRANCE CHANNELLING & ALCHEMY through Elisabeth Jensen, High Priestess of Isis & Osiris in the Osiris ( Kings) Chamber & as all participants in turn lie in the Sarcophagus to HEAL THE SPIRIT. Return to hotel for dinner & integration. (B, D)
After Final Initiations in Great Pyramid
Wednesday May 13 - Day 18 - FAREWELL CEREMONY, FORMAL DINNER SHOW (B, D)
Thursday May 14 - Day 19 - DEPART CAIRO & OUR SOUL HOME & FLY HOME
Transferred to Cairo Airport. Main group departs on Flight EK 924 at 18.30hrs to Dubai (B)

Medhat Ahmed - our very spiritual tour manager also has his own travel company now which is called ABBA TRAVEL www.abbatravel.co.uk and bookings for your Egypt Land Package will be quick and easy through them via PayPal.
ESSENTIAL PREREQUISITES
Isis Lotus Healing Level 1 is the only prerequisite course for all participants. This 2 day Healing course is taught by Elisabeth Jensen & Authorised Isis Teachers in Australia & Asia.
• To view the upcoming dates for this 2 day course taught by Elisabeth and Authorised Isis Teachers, click through here
• To view details of this course, click through here
AGE:- 18 - 75 years
GOOD HEALTH is a must.