At present Elisabeth hasn't any Sacred journeys to Egypt planned but does highly recommend
sri mulyadi & Paul Filmer who will be LEADING A SACRED JOURNEY to egypt from november 28 -deceMber 12 2019
Sri and Paul live in Singapore and have both assisted Elisabeth in Egypt many times
ELISABETH JENSEN'S PAST JOURNEYS
SACRED JOURNEY 2018
ELISABETH JENSEN & AUSET TEMPLE HEALING PRESENT...
INITIATIONS TO BECOME A SPIRITUAL ALCHEMIST OF GODDESS AUSET
Commencing in Cairo November 9 & completing 23 November 2018
BE INITIATED IN THE GREAT PYRAMID OF EGYPT ON 11/11/11 & AT THE TEMPLE OF ISIS DURING POWERFUL PRIVATE CEREMONIES
SORRY FULLY BOOKED - WAITING LIST ONLY!
Elisabeth will also lead you in an incredible channelled meditation & Initiation as you stand between the Paws of The Sphinx....
These Initiations at the Sacred Sites in Egypt will alchemically transform you forever more! Follow the path of all the great Alchemists, High Priests & Priestesses, Spiritual Teachers, Healers & Prophets past & present as you experience Egypt during Elisabeth's 10th Sacred Journey to Egypt in a way not ever possible for the average traveller. We will also visit the Chapel of Goddess Sekhmet at Karnak Temple for her Blessings plus spend quality quiet time at the ancient Sleep Temple of Sakkara.
As a trance and energy channel for Goddess Auset plus many Egyptian Divinities Elisabeth can offer you amazing insights into the TRUE ANCIENT EGYPT that is really about 49,000 years old. Includes 8 nights sailing the Nile River on our own private luxury Dahabia "Afandina" so we can meditate & experience travel quietly away from the usual touristy cruises plus we will be staying at the famous Mena House Hotel directly opposite The Great Pyramid - see photos below.
...and here are the full details! Download the itinerary and application form here, which must be completed by e-mail or printed and given to Elisabeth for approval before booking your place with a deposit please (see Dates & Booking Page) We are keeping Journey numbers small & for Auset Temple Healing students only to ensure the maximum powerful experiences & support for you.
All participants must have completed Auset Temple Healing Level One as well as Auset Temple Divination due to the intensity of the Initiations and Private Ceremonies. This Sacred Journey is organised by Mohamed Nazmy and his highly experienced Quest Travel Company in Egypt - we will have a Spiritual & English speaking Egyptologist to guide us plus Elisabeth will be assisted by SRI MULYADI from The Blue Lotus in Singapore.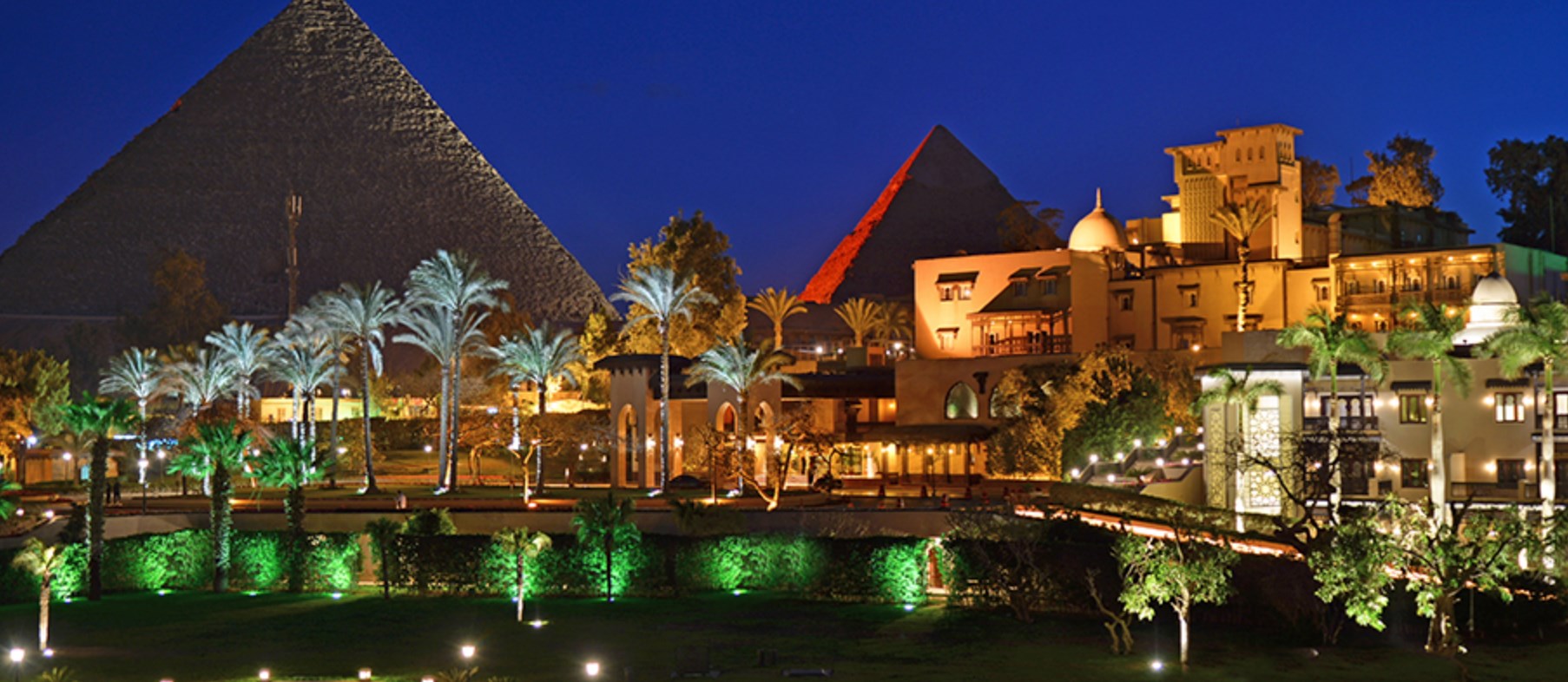 This Sacred Journey will start on November 9 in Cairo for 2 weeks and includes a Private Visit inside The Great Pyramid to both the Queens and Kings Chamber on the powerful date of 11/11/11. In Cairo we stay at the beautiful Mena House Hotel just directly opposite the Great Pyramid and Giza Plateau - click images above to see more photos please. Formerly an old Palace Mena House is built over many ancient Temples so the energy is very strong here.
We also have our Private Nile Cruise Ship, the Afandina. for 8 nights as we sail the River Nile and stop when we wish at the Sacred Temples along the way also including a Private visit to Isis Temple at dawn and much much more...
Limited places so early bookings highly recommended NB! NO SINGLE ROOMS AVAILABLE NOW - SHARE ROOMS ONLY CAN BE BOOKED
For the full details, please browse the following documents:
The application form must be completed before booking please and emailed to Elisabeth at Auset Temple Healing!